Indiana Obituaries
1900 Rochester Sentinel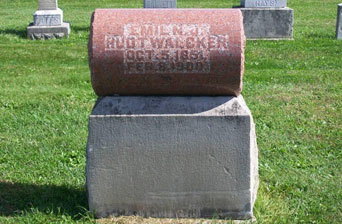 Emil Hudtwalcker (October 5, 1851 – February 8, 1900), a German farmer who lived south of town, died at an early hour this morning. His disease was paralysis and burial will be made Saturday at the Citizen's cemetery.
The Rochester Sentinel, Thursday, February 8, 1900
Children
Horatio E. Hudtwalcker (1881 – 1934)
Eliene Verne Hudtwalcker Joyce (1882 – 1971)
Rudolph E. Hudtwalcker (1894 – 1986)
1917 Rochester Sentinel
Monday, July 2, 1917
Omer Isaac Alexander, 38, South Monroe St., died suddenly Saturday evening at eight o'clock a victim of apoplexy. He returned home at noon from his work at the bridge factory feeling well. Several hours later he began to complain of a headache and at supper time, fell unconscious, dying two hours later.
Funeral Monday afternoon at 2:30 at the house, Rev. G. C. Chandler in charge.
Omer Alexander was born in Rochester, December 16, 1879. He was adopted when two years old by Mr. and Mrs. Isaac Alexander. In 1892 he married Miss Ellie Hudtwalcker. They were parents of one son,Clarence (Alexander), who is living. Mr. Alexander was a member of the Baptist church and of the Moose lodge. The order had charge of the funeral. The Citizen's band Monday afternoon played for the funeral.
1918 Rochester Sentinel
Friday, November 15, 1918
Mrs. Henrietta Hudtwalcker, 82, died Thursday afternoon at her farm home south of Rochester, after a long illness. Death was caused by old age and complications. There are no surviving blood relatives. Mrs. Hudtwalcker lived alone on her little farm since the death of her husband 36 years ago. She was born near Hamburg, Germany, and had lived in this country for more than 50 years.
Funeral at the home Saturday at two o'clock, Rev. G. C. Chandler, of Franklin, in charge. Burial at Citizen's cemetery.
Fulton County Indiana Obituaries 1923 Rochester Sentinel
Four residents of Rochester and Fulton county died over the weekend.
Mrs. Elise Hudtwalcker, of this city, Joseph Howard of this city, Eileen McDowell, of this Athens, and J.J. Stockberger, of Ft. Wayne, practically a life long resident of Fulton County. Mrs. Elise Hudtwalcker, widow of the late Emil Hudtwalcker, died at her home 1130 Franklin Avenue at 5:30 o'clock Sunday morning following an illness of six weeks. Death was due to paralysis. She was 61 years of age.
Elise D.J. Cohrs, daughter of Franz and Elise Cohrs, was born in Hamburg, Germany, August 19, 1861. She was the eldest of seven children, three of whom, with her parents, proceeded her. In 1890 she came to America and on March 22 of the same year she was united in marriage to Emil Hudtwalcker, of Rochester, at New York. They lived on a farm south of the city until 1906 when she moved to the home on Franklin Avenue.
To this union five children were born, one son, Emil (Hudtwalcker), and a daughter, Thurmelda (Hudtwalcker), having died in February, 1900. Two sons, Horatio E. (Hudtwalcker) and Rudolph E. (Hudtwalcker), and one daughter, Mrs. Ellene Joyce (nee Hudtwalcker), one brother, Julius Cohrs, and two sisters, Mrs. Constantine Taackes and Mrs. Otto Taacks (sic), the latter of Hamburg, Germany, survive.
1934 Rochester Sentine
Horatio Hudtwalcker (April 22, 1881 – May 14, 1934), aged 52, was found dead in a pasture field at his farm seven and half miles northwest of Rochester yesterday afternoon by Harry SMITH, a man who was employed by Roy ANDERSON, a neighbour. Death was due to a shot gun wound in the right side.
Coroner Herbert ZIMMERMAN was called and he held that Hudtwalcker had committed suicide. The coroner stated that he had learned that Hudtwalcker had been worried and grieved since the death of a horse about one week ago. The members of the dead man's family dispute the suicide theory and say that they believed that Mr. Hudtwalcker was killed accidentally. He had been hunting groundhogs on his farm several times recently.
The body was discovered by Smith while driving along the road with a team and wagon. The body was lying behind a bale of wire. It could not be seen from the Hudtwalcker home. Mr. Smith notified Rudolph Hudtwalcker, a brother of the dead man who lived with his brother. Coroner Zimmerman was then called. He held that death must have occurred about 1:15 o'clock Monday afternoon.
Mr. Hudtwalcker was born on a farm a mile south of Rochester on Road 25 on April 22, 1881. His parents were Emil and Elise Hudtwalcker who came to this country from Germany. The deceased had lived in or near this city all of his life. He was a farmer and also followed the occupation of ditching. He was a member of the Eagles Lodge of this city.
Survivors other than the brother Rudolph Hudtwalcker are a sister, Mrs. Elly JOYCE of this city and several cousins and a nephew.
The funeral service will be held from the home northwest of the city at 2:30 o'clock in the Odd Fellow Cemetery.
Parents
Emil N.J. Hudtwalcker (1891 – 1900)
Elise D.J. Cohrs Hudtwalcker (1861 – 1923)
Siblings
Ellen Verne Hudtwalcker (Joyce) (1882 – 1971)
Rudoph E. Hudtwalcker (1894 – 1986)
Funeral services from the Baptist Church Tuesday afternoon at 2:30 o'clock, Rev. W.J. Niven in charge. Burial at L.O.O.F. cemetary.
Emil Hudtwalcker (05.10.1850) was the youngest child of Horatio Deane Hudtwalcker and his wife Martha Deane.
1971 Rochester Sentinel
Mrs. Ellene Verne Joyce, 89, former resident of 1130 Franklin Avenue, died at 5:05 p.m. Thursday in the Canterbury Manor nursing home. She had been in failing health for several years. Born March 5, 1882, in Fulton county, she was the daughter of Emil and Elise Hudtwalcker. Her first marriage was in Rochester to Homer Alexander. He died May 30, 1917. Her second marriage was to Sanford A. Joyce. He preceded in death January 27, 1961.
Surviving are one son, Clarence (Alexander), Rochester; one brother, Rudolph Hudtwalcker, Rochester; one step-daughter, Mrs. Forrest (Beaulah) Brock, of Rochester. Two brothers and one sister preceded in death.
Final rites will be at 2 p.m. Saturday in the Zimmerman Brothers funeral home. The Rev. Josef Palat will officiate. Burial will be in the Rochester I.O.O.F. cemetery. Friends may call at the funeral home after 5 p.m. today.
Parents
Emil N.J. Hudtwalcker (1851 – 1900)
Elise D.J. Cohrs (Hudtwalcker) (1861 – 1923)
Spouses
Homer Isaac Alexander (1879 – 1917)
Sanford A. Joyce (1875 – 1961)
Children
Clarence D. Alexander (1906 – 1990)
Siblings
Horatio E. Hudtwalcker (1881 – 1934)
Ellene Verne Hudtwalcker (Joyce) (1882 – 1971)
Rudolph E. Hudtwalcker (1894 – 1986)
Written by:
From the newspaper "Rochester Sentinel".
Collected and published by Jean C. and Wendell C. Tombaugh, Tombaugh House, Rochester, Indiana, USA.
Added February 2006.
1986 Rochester Sentinel
Rudolph "Rudy" HUDTWALCKER, 91, formerly of 130 Franklin Ave., died at 6:30 p.m. Monday at Canterbury Manor Nursing Home, where he had lived for five years.
Born Dec. 9, 1894 in Rochester to Emil and Elisie COHRS HUDTWALCKER, he lived most of his life in this area. He was a typesetter for various newspapers in Indiana and Illinois. He did not marry. He was a member of the Typographical Union, the Knights of Pythias and the Rochester American Legion. He was a veteran of World War I.
He is survived by a nephew, Clarence ALEXANDER, Rochester. Two sisters and two brothers preceded in death.
Services will be at 2 p.m. Wednesday at the Zimmerman Brothers Funeral Home, Rocheter, with the Rev. Donald MAUGHAN officiating. Visitation will be from noon until services begin. Burial will be in the I.O.O.F. Cemetery, Rochester. The Rochester American Legion and Veterans of Foreign Wars will conduct graveside rites. Memorials may be made to the Fulton County Animal Shelter.
The Rochester Sentinel, Monday, July 7, 1986
Parents
Emil N.J. Hudtwalcker (1851 – 1900)
Elise D.J. Cohrs (Hudtwalcker) (1861 – 1923)
Siblings
Horatio E. Hudtwalcker (1881 – 1934)
Ellen Verne Hudtwalcker (Joyce) (1882 – 1971)
Added originally August 2011
www.hudtwalcker.com 2014