Insurance and Flemish Masters
Nicolaus (1794 – 1863)
Nicolaus Hudtwalcker was born in Hamburg on 10 March 1793 (year of birth in some records also given as 1791 or 1794), and died in Hamburg on 26 February 1863. He was the 3rd child of Nicolaus Hudtwalcker (3 May 1757 – 25 January 1832) and Charlotte Amalie née Ohmann (6 September 1767 – 2 March 1842).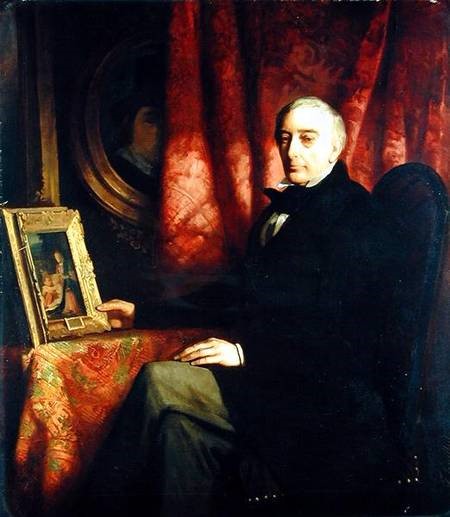 Martin Hieronymus was Nicolaus older brother. Whereas Martin Hieronymus in his marriage fathered twelve children, Nicolaus neither married or had any children. Although his surviving sisters married, there are no entries in the records of children born to any of them. Perhaps as a token thereof, in his last will, Nicolaus continued to favor a foundation for young and married women.
In his professional life, Nicolaus was as an insurance broker in the family-owned insurance company, Hudtwalcker Assekuranz. The company had been founded by his father, Nicolaus, son of Jacob Hinrich Hudtwalcker, and also a younger brother of Senator Johann Michael Hudtwalcker.
The youngest of Nicolaus' sisters, Susette, was married to Carl Johann Friedrich Wesselhoeft (19 March 1790, Jensum – 2 June 1862, Hamburg). According to one of the few available records, Wesselhoeft had a son, Johannes Wesselhoeft/Carl Johann Wesselhoeft (1816 – 1903) from his first marriage. Another account mention Johannes/Carl Johann as Nicolaus' stepson and heir
The insurance company Hudtwalcker Assekuranz changed name to Hudtwalcker & Wesselhoeft, and then to Wesselhoeft Ahlers & Schues OHG. Later the name of the company became WACUS (abbrevation of Wesselhoeft Ahlers Carsten and Schues). In 1997 the company was bought by the American AON Group.
Nicolaus was one of the 30 members of the founding group of the Hamburg Art Association. Important as the insurance business might have been, it is as an art collector Nicolaus is known and remebered. He had assembled the "most important collection in Hamburg".1 The collection had particular focus on Flemish masters. The original core of the collection were paintings Nicolaus hadacquired from Georg August Spangenberg,2 but during his lifetime he subsequently enlarged the collection.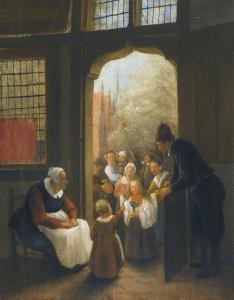 When Nicolaus died in 1863, Johannes/Carl Johann inherited the insurance company and the art collection. He "maintained and continued to add to the collection with zeal" up until 1888, when the group of 97 paintings were transferred to the Kunsthalle Hamburg as a joint collection under the name Die Gemälde-Sammlung Hudtwalcker-Wesselhoeft.3
Parents
Nicolaus Hudtwalcker (3 May 1757 – 25 January 1832)
Charlotte Amalie née Ohmann (6 September 1767 – 2 March 1842)
Siblings
Martin Hieronymus Hudtwalcker (15 September 1787 – 16 August 1865)
Charlotte Amalie Hudtwalcker (6 October 1789 – 15 December 1864)
Victorine Antonie Hudtwalcker (26 June 1795 – 26 February 1858)
Luise Conradine Hudtwalcker (19 June 1797 – 12 March 1873, Meran)
Susette Hudtwalcker (18 January 1800 – 12 May 1883)
We are grateful to Mr. Albrecht von der Decken for his participation.
Sources
www.hudtwalcker.com 2014