In the Service of the Lord
Christian Martin (1761 – 1835)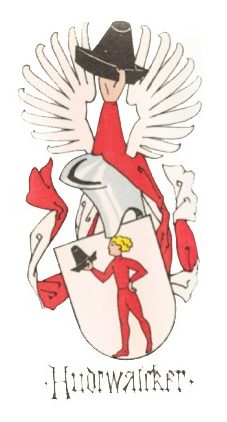 Christian Martin Hudtwalcker, b. Hamburg 15 October 1761 d. Itzehoe September 1835,1 was the 9th child and 4th son to Jacob Hinrich Hudtwalcker (1710 – 1781) in his marriage with Sarah Elisabeth Hudtwalcker née Ehlers (1728 – 1799).
While his older brother, the Senator Johann Michael Hudtwalcker (1747 – 1818), continued in his father's footsteps and continued to run the family company Hudtwalcker & Co., Christian Martin was to walk down a different path. During his educational years, he had a higher calling than to be a merchant of Fish Oils, and instead chose to dedicate his life in the service of the Lord.
After completing his theological studies at the age of 25 in 1786 he became pastor in Malente.2 The same year he married his first wife, Susanna Carolina Winckler and three years later in 1789, the year he turned 28, he was appointed pastor in Neukirchen.3 A couple of years later in 1791 his wife gave birth to the their first child, Carl Jacob.
Through his engaging sermons and religious writing, Christian Martin soon became a well known and respected preacher. In the wake of his increased reputation, which reached far beyond the parish of Neukirchen, he was, in 1801, at the age of 40, promoted to Senior Pastor and German garrison preacher at the Church of the Lord Zebaoth4 in Copenhagen, Denmark. 1801 was also the year the couple's second child, Susanne Elisabeth, was born. Around this time Christian Martin was also active as tutor for his nephew, Martin Hieronymus Hudtwalcker (1787 – 1865).
However, during the British bombardement and siege of Copenhagen5 in 1807, Christian Martin attracted the anger of the Danish Crown Prince, and future King, Frederick VI.6 Due to the pleading of the defending soldiers families and relations, Christian Martin spoke in favour of surrendering the fortress to the attacking British forces. The Crown Prince would have nothing of it, and is said to have remarked: "He might be a fine vicar, but he is not cut out to defend a fortress".
Consequently, in the ensuing year, when Frederick VI was crowned King of Denark in 1808, the year Christian Martin entered into his 2nd marriage with Johanna Gerhardine Caroline von Haffner, his position in Copenhagen became untenable. On top of these difficulties, his daughter, Susanne Elisabeth, died on Christmas Eve, 24 December 1808, aged just seven years.
In 1809, the respectable position as pastor in Neuenbrook7 in the district of Steinburg, then a part of Denmark, became vacant. Christian Martin applied and was appointed, and in 1810 he moved, together with his family, to Neuenbrook. The same year his 2nd wife, Johanna Gerhardine Caroline, gave birth to Susanne Christiane Gerhardine. Although she was their first child, she was his 3rd child and his 2nd daughter.
In Neuenbrook he soon became a well-known and highly appreciated representative of the spiritual office. Life in Neuendorf proved to be a period of recuperation after the troublesome years in Copenhagen. In 1809, his 4th child and 3rd daughter, Gerhardine Wilhelmine, was born. The year 1812, however, was again a year of mourning. His only son, and oldest child, Carl Jacob, who was a medical doctor and surgeon with the Imperial Russian Army in St. Petersburg, died on 12 November 1812.
In 1814 when he was 53 years old the Danish King's anger at Christian Martin's humanitarian inclined outspokennesss on behalf of the soldiers' families in 1807, finally seems to have abated. Christian Martin was elected Senior and monastery preacher in Itzehoe. Not only was the step confirmed by Frederrick VI, but shortly thereafter Christian Martin was additionally nominated to the honourable position as Consistorial Counsellor in the Royal Danish Consistory, and furthermore appointed Provost of the Provostry of Münsterdorf.8 With its 22 parishes, the municipality of Münsterdorf was the largest provostry in the Duchy of Holstein.9
Christian Martin was to carry on his duties as Consistorial Counsellor for more than 20 years. The post had been severely mismanaged under his predecessor. Not only were the coffers empty, the Consistory was also heavily indebted. After laying dormant for the most part of his life, the drop of merchant's blood inherited from his father, Jacob Hinrich, finally became useful. The Consistory's finances were restored and at the end of his tenure the finances were in such good shape that a significant amount could proudly be passed on to his successor.
This considerable achievement did not pass by unrewarded. On 1 November 1828, Christian Martin, now 67 years old, was made Knight of the Order of the Dannebrog.10 A perhaps final and confirming sign of reconciliation with King Frederick VI took place on 23 June 1833, when the King, during a stay in Itzehoe, was present at one of Christian Martin's sermons.
Half a year earlier, in Christmas 1832, his second wife, Johanna Gerhardine Caroline, suddenly passed away. They had married in 1808, the same year his second child, Susanne Elisabeth, had died.
Their marriage had lasted for nearly a quarter of a century, and she had stood faithfully at his side through trials and success. Her death was a heavy blow. Christian Martin was in his 71st year, and from now on his energy and strength slowly but surely declined. For many years he had already suffered from an incurable disease, and although the pains could be very violent, he had always somehow managed to hold his spirit high. But after the loss of Johanna Gerhardine he slowly started to wither away. He could no longer perform all of the sermons, and had to let others step in on his behalf. During the last months of his life, in the summer of 1835, when he was too ill to leave his house, an unexpected visit by the Prince Friedrich von Hessen, the present County Count and Govenor of the Duchy of Schleswig-Holstein, brought him a last, great pleasure.
Five weeks before his 74th birthday, in the early morning of 8 September 1835, after 49 years in the service of the Lord, Christian Martin died.
Parents
Jacob Hinrich Hudtwalcker (b. 20 November 1710 – d. 28 October 1781)
Sarah Elisabeth Hudtwalcker née Ehlers (b. 2 April 1728 – d. 26 April 1799)
Siblings
Johann Michael Hudtwalcker (b. 21 September 1747 – d. 14 December 1818)
Margaretha Elisabeth Hudtwalcker (b. 2 October 1748 – d. 20 October 1794)
Sara Elisabeth Hudtwalcker (b. 12 March 1750 – d. 22 May 1819)
Catharina Magdalena Hudtwalcker (b. 14 November 1751/52 – d. 8 March 1806)
Jacob Hinrich Hudtwalcker (b. 28 June 1753 – d. 7 April 1799)
Johanna Margareta Hudtwalcker (b. 15 January 1756 – d. 22 May 1785)
Nicolaus Hudtwalcker (b. 3 May 1757 – d. 25 January 1832)
Caecilia Hudtwalcker (b. 28 January 1759 – d. 29 June 1765)
Daniel Conrad Hudtwalcker (b. 3 September 1765 – d. 25 June 1796)
Spouses
1st marriage in 1786:
Susanna Carolina Winckler (dates of birth and death unknown)
2nd marriage in 1808:
Johanna Gerhardine Caroline von Haffner (date of birth unknown – d. 1832)
Children
1st marriage:
Carl Jacob Hudtwalcker (b. 19 August 1791 – d. 14 November 1812, St. Petersburg, Russia)
Susanne Elisabeth Hudtwalcker (b. 26 September 1801 – d. 24 December 1808)
2nd marriage:
Susanne Christiane Gerhardine Hudtwalcker (b. 10 June 1809)
Gerhardine Wilhelmine Hudtwalcker (b. 27 March 1811)
Awards
Knight of The Order of the Dannebrog, 1828
Religious Writings
Anleitung zu einer vernünftigen Andacht beim Genusse des heiligen Abendmals: für den Bürger und Landmann. 1793
Predigten und Casual-Reden. 1800
Vier Predigten und zwey Taufreden. 1800
Predigten. 1805
Sources
Christian Martin Hudtwalcker, in: Neuer Nekrolog der Deutschen
13/2 (1835) Weimar: Voigt 1837, S. 746-748 (Nr. 221)
wikipedia.org
Appreciation
We appreciate the kind assistance of Mr. Simon Kennerley, noble Bard and Commander of the Yorkshire Irregulars.
Notes
www.hudtwalcker.com 2014